History…
Visitors today often have little idea of the rich historical background surrounding Beaudesert. Even before the Romans built their roads across the country, Cannock Chase had a population roaming its upland forest.
Castle Ring, to the north of the Beaudesert estate is a large two tiered Iron Age hill fort, is one of seven such forts in Staffordshire. Dominating the highest point of Cannock Chase, this now popular visitor attraction, would have housed over a thousand villagers.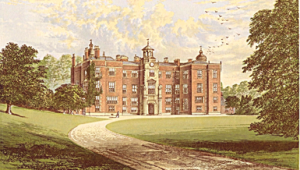 The Normans saw the value of the Chase as a hunting ground. William I retained it as a royal forest, and later, Henry I had a house in the area. To raise money for the crusades, Richard I sold the Manor of Beaudesert to the Bishop of Lichfield. Following the Reformation, Henry VIII gave the house and land to Sir William Paget, an ancestor of the first Marquis of Anglesey.
The Anglesey family added great treasures to and enlarged the Old Hall. During the reign of King George V  the hall shed its former glory and in 1935 many of the treasures were sold off in a demolition sale.
Oak panelling, carved architraves, fire places, windows and the great Waterloo staircase are to be found in Carrick Hill, a house built in the style of an English Manor House of the late Elizabethan period, in Adelaide, Australia.
The Marquis, in 1937, gifted the parkland to the Scouts, Guides and youth of Staffordshire. The lands were conveyed to a Charitable Trust—'The King George V Memorial Scouts and Guides Recreational Lands', more commonly known as 'The Beaudesert Trust'.
The centre now offers opportunities for young people from a wide range of youth organisations and educational establishments to take advantage of activity, camping and residential experiences in this area of outstanding natural beauty.
You can find out more about the history by booking one of our guided walks. Guided History Walks