Air Rifle Instructor Training...
Date: 15th April 2023 Details: 15th and 16th April 2023 Saturday and Sunday, 9.00am-5.00pm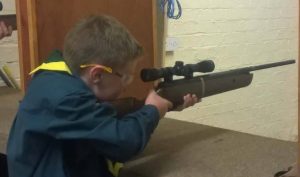 FULLY BOOKED
Interested in running air rifle sessions?  This is the national governing body qualification.
Run by Andrew Nimmo, who is a Scout Leader from Buxton as well as being the Head Coach for the GB Rifle Talent Squad.
The course is open to any adult over 21 years of age on the last day of the course. See more information here.
Cost: £150 per person non residential, includes tea and coffee
This is a 2 day course.  Camping or accommodation available at normal rates, meals available at normal rates, please contact reception
If you would like to attend this course, please email [email protected] or book via our online shop