The Wilderness 2023 programme
Confirmed so far
Friday eve
8-30pm Speaker
Saturday
9-30am till 10-30am Workshop 1
11am till 12noon workshop 2
2pm Headline main stage Joffery Watson Speed carve
3pmtill 4pm Workshop 3
4-30pm till 5-30pm Workshop 4
7pm Saturday evening entertainment
8pm Campfire
Sunday
9am – 10am workshop 5
10-15 till 11-15am Workshop 6
11-30am The Big finale Large Game prep at the Wildways stand. John Boe of Wildways demonstrates the finer techniques of prepping a small dear. This is a hands on demonstration with plenty of audience participation, some cooked up venison and some lucky people will get a joint of venison to take away.  Don't miss this fantastic demonstration.
Bookable workshops for any participants on Saturday and Sunday. The final list will be published soon but already confirmed are:
Bow drills, feather painting, empowerment,  hand drills, flint and steel,  knife skills, fish spears, traps and snares, Survival puzzle room, water purification, emergency survival, canoe expedition theory, small game prep, carving.
Activities will also be available instead of workshops if you prefer: Via Ferrata, Abseil, Coracles, Archery, Rifle Shooting, Tomahawk Throwing, Fencing.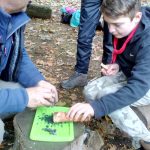 These sessions run on Saturday morning, Saturday afternoon and Sunday morning, and are provided on a 'first-come, first-served' basis. Bookings for these sessions will open by the 1st of September for those booked on to the event already.  We advise early booking to get your first choice of workshops.
The workshops and activities are all included in the price.